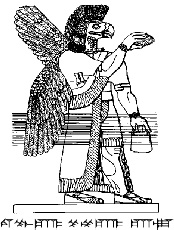 The Casco Bay Assyriological Institute
Conferences
Casco Bay Assyriological Institute -- Home
---
Scholars typically spend their days embroiled in distractions, whether pleasant, as in the case of students and their needs, or less pleasant, as in the case of committee assignments and budgetary matters. The Casco Bay Assyriological Institute was formed in part to alleviate this situation, by arranging situations in which three or four major scholars could get together, unencumbered by audience, students, or administrative problems, in the idyllic surroundings of Chebeague Island, Maine, for a short period of time to discuss among themselves issues central to their respective disciplines.
Typically, each participant writes a paper ahead of time and these papers are circulated before the conference. The Institute provides housing and board for participants (and their spouses) at a local bed-and-breakfast. The formal program consists of sessions (two to three hours) each morning and afternoon, in which the papers are discussed, but much of the value of such conferences lies in informal exchanges among the participants, and the Director's House is open every evening for such discussions. In addition to the 'working' days, one day is typically set aside for relaxation, most likely a trip by boat to a neighboring island, possibly of historic interest, possibly uninhabited (except for seagulls), for a picnic lunch. The papers, together with an edited version of the discussions and a concluding essay, are published by the Institute in its Transactions series.
The first such conference, held on September 25-29, 1997, addressed concepts of the divine as One and/or Many in ancient Assyria, Egypt, Greece, and Israel. The Participants (in addition to the Director) were:
John Baines, Professor of Egyptology, Oxford University
Stephen A. Geller, Professor of Bible, Jewish Theological Seminary of America
Simo Parpola, Professor of Assyriology, University of Helsinki
H.S. Versnel, Professor of Ancient History, University of Leiden
The five papers, together with an introduction, excerpts from the intense discussions, and a concluding chapter, will appear in October, 2000, under the title One God or Many? Concepts of the Divine in the Ancient World, Transactions of the Casco Bay Assyriological Institute, Volume 1.
---
Conferences
---
First published August, 2000.
These pages prepared and maintained by Michael Porter
mporter@cba-inst.org